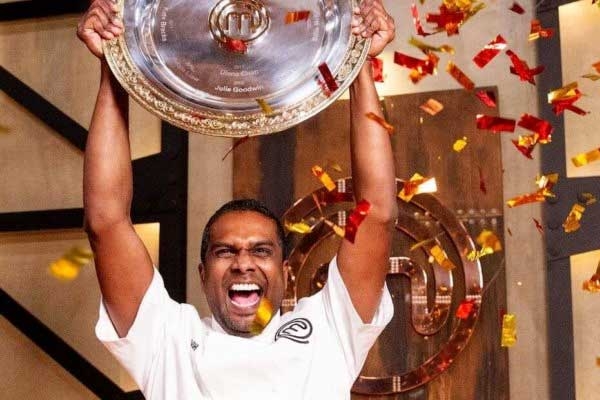 (Image source from: Little India)
Singapore-born Sashi Cheliah took home the title of MasterChef Australia 2018, after scoring a massive 93 out of 100, the highest grand finale score in the history of MasterChef Australia television reality show.

"It's a very weird feeling," Cheliah said after winning the title. "I never thought this would happen!," he was quoted as saying by TV Week.

"I was literally jumping up and down screaming and cheering. It's very hard to explain but it was a very beautiful feeling."

The 39-year-old Cheliah, a prison guard from Adelaide, beat Queensland builder Ben Borsht, who scored 77, in one of the most one-sided finals in MasterChef Australia so far.
Congratulations to @sashi_cheliah for taking out the #MasterChefAU 2018 title! pic.twitter.com/4olK1zNtjo

— #MasterChefAU (@masterchefau) July 31, 2018

He commemorated his Indian connection by using the red chili as his "hero ingredient" to prepare a starter and entree for one of the two final rounds. He made a Sambal prawn starter and snapper fish curry entree with a side of cumin rice.

The grand finale, which was aired on July. 31, showed him far ahead of his competitor right from the first round. His Sambal Prawn appetizer helped him get a 30 out of 30 in the first round itself, creating a major gap of 16 points between the two contestants.
Hi everyone... thank you very much for the huge support and love from all over world. I am so blessed and honoured. Love you so much...Some exciting new ventures are coming soon so stay… https://t.co/orkhV2DmF4

— sashi_cheliah (@sashi_cheliah) August 1, 2018

Cheliah was a consistent performer throughout the show, creating Indian, Malaysian and Singaporean dishes inspired by his heritage and culture. His audition dish was called the "Best Indian Dish" that judge George Calombaris had eaten. His use of spices earned him the title "the spice king" on the show, while his western dishes showed that his skills go beyond his brilliant use of spices to blend and balance intricate flavors as well.

Cheliah is the first Singaporean to win the title. After winning the $250,000 prize money, he said that his future plans include opening an Indian and South Asian fusion restaurant, according to theonlinecitizen.com. He also intends to work with ex-prisoners and offer them new opportunities in the food industry.

Cheliah has served as a police officer in Singapore and migrated to Adelaide six years ago where he stays with his wife and two sons. He traces his roots to Madurai in Tamil Nadu, from where his grandparents moved to Singapore.

By Sowmya Sangam