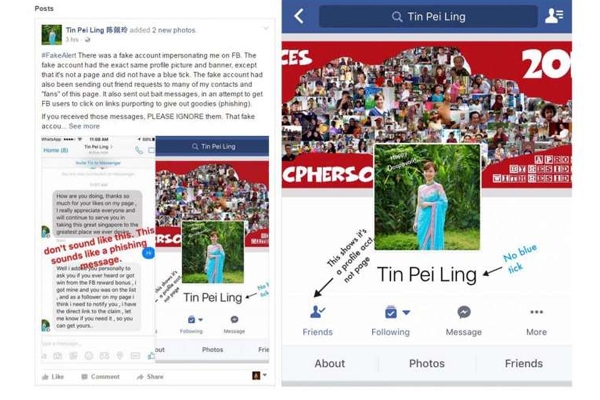 Thirteen Singapore MPs from the PAP (People's Action Party), including Minister in the PM's Office Chan Chun Sing, had a fake account on Facebook in their names.
Most of the accounts appeared between Thursday night and Friday, bearing the MPs' names, profile photos and banner photos in the background.
Those accounts were deleted shortly after the MPs were alerted, by grassroots leaders and residents.
PAP's executive director, MP Alex Yam, said in a Facebook post that the PAP's communications team had also been told of the spate of fake accounts, "about two to three daily".
The fake Facebook accounts mirrored MPs, added their friends, and then tried to phish for information.
Yam urged users to look for a blue tick- Facebook's symbol of verification on MP's profiles, and alert the MPs if they come across suspicious accounts.
Tin Pei Lings, who was also a victim of the deception, gave her residents a quick lesson on Facebook yesterday on how to spot fake accounts.
A screen shot of the fake account shows the impersonator had contacted one of Tin Pie's contacts, saying: "I really appreciate everyone and will continue to serve you in taking this great Singapore (sic) to the greatest place we ever desire."
Then he asked, if the contact ever heard of the "FB reward bonus" and if the contact wanted the link to claim the reward.
Tin Pie's said "I don't sound like this. This sounds like a phishing message."
Chan Chung Sing is also the labour chief, he said that while the motives behind the accounts could be varied - from having fun to criminal intentions - "we have a responsibility to stop imposters".
"We'll see whether we can work with Facebook to see if the fake accounts are coming from the same IP address, and make a move from there," Parliamentary secretary Baey Yam Keng said.
The other MPs, who were affected were Deputy Speaker Charles Chong, Senior Ministers of State Heng Chee How and Sim Ann, Minister of State Chee Hong Tat, Dr Lily Neo, Dr Chia Shi-Lu, Mr Ang Wei Neng, labour MP Desmond Choo, Ms Cheryl Chan and Mr Darryl David.
Singapore ranks 4th in the global travel freedom ranking
AMandeep